ChangBao R & D center, rated as provincial-level enterprise technology center of Jiangsu province, consists of a special thread research, a material research, a rolling process, a corrosion research, a key equipment research, 2 test centers, a corrosion lab and a semi-works. The R & D center of ChangBao is an exclusive special steel research institute, which concentrates on the research and development of exclusive special steel products, such as tubular products used for oil and gas exploitation and transportation and special alloy steel. There are more than 90 research staff in ChangBao, and among which are 28 graduates and doctors and 25 senior professional technicists. The R & D center also processes 1 external academician from Chinese Academy of Engineering and 11 external specialists.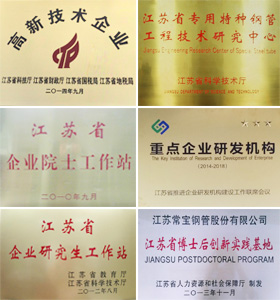 In 2008, ChangBao was rated as "Jiangsu New High-tech Enterprise", later rechecked both in 2011 and 2014.
In 2009, "Jiangsu Engineering Research Center of Special Steel Tube" was set up.
In 2010, "Jiangsu enterprise academician workstation" was set up and had been approved by the department of science in August, 2014.
In 2012, "Jiangsu enterprise graduate workstation" was set up with the Institute of electrical and mechanical in Hohai University.
In 2013, "Jiangsu Postdoctoral Program" was set up.
In 2014, ChangBao was awarded as "The Key Institution of Research and Development of Enterprise".
In 2015, ChangBao was awarded as "Jiangsu excellent engineering technology center".
The main objective of ChangBao R & D center is to grasp the leading technologies of steel pipe industry at home and abroad, and to become the only domestic institution which studies CPE tube rolling process and equipment. It mainly studies non-API products with high grade, high precision and high performances which are high-strength, anti-collapse, anti-corrosion and low-temperature-resistant and studies high-grade steel pipes used for boiler pipes which are high pressure resistant, high temperature resistance, supercritical, ultra-supercritical to replace import substitutes. The R & D center has originally created pipe-end processing techniques of oil well pipe's connection structure and formed classical small-sized oil well pipe series with features of anti-collapse and high-connection strength, and drill pipe series which are small-sized and direct-connection. It aims to make the manufacturing techniques and product index of the boiler pipes that used for high-pressure boiler and power station achieve advanced level in China.
Please leave the demand and idea for your steel tube , let me help you realize the steel pipe you need !
For you, I'll do it!