Committed to harmonious Practice civilization Changbao volunteers in action
In November 30, 2013, "Chang Bao energy volunteer service team" has been set up in Chang Bao energy company, at that time a total of 56 people participated in.Over the years we adhering to the the spirit of the volunteers"dedication, friendship, mutual assistance, progress," and carried out a variety of activities, got the reputation of the company and the society.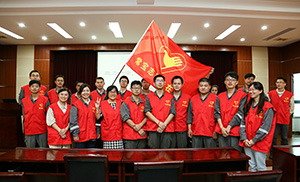 In August 2015, the company expanded the "Chang Bao energy volunteer service team", and renamed Chang Bao volunteer service team, volunteers also expanded from 56 to 121, Changzhou District has 56, Jintan District has 65. In November 22 to November 23,"Chang Bao volunteer activities ceremony"has been held in ChangBao Limited Co. and Jintan Precision company.
Over the years, Chang Bao volunteers are dedicated selflessly, active in various fields to the helping of weak and disabled, disaster relief, environmental protection etc.. The volunteer team accept the challenge, overcome difficulties,and from immature to mature step by step .
ChangBao volunteers advocate: do what I can,without compensation,help others,service society,practice the volunteer spirit,spread advanced culture,contribute themselves into construct the solidarity and mutual assistance,equality and fraternity,common advance society.